'1 EXCLUSIVE' OFFICIAL MIFA VIP WORKSHOP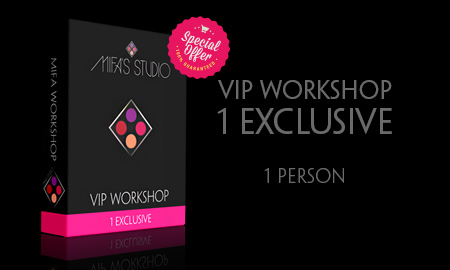 '1-EXCLUSIVE' OFFICIAL MIFA VIP WORKSHOP – Intense workshop for one person only.Book Online
or More info
'23 EXCLUSIVE' OFFICIAL MIFA VIP WORKSHOP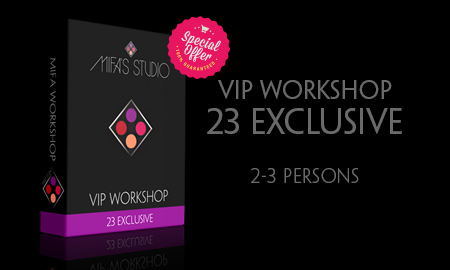 '23 EXCLUSIVE' OFFICIAL MIFA VIP WORKSHOP. 2 or 3 persons based workshop. Focused training with the latest trips and tricks! Book Online or More info
'X EXCLUSIVE' OFFICIAL MIFA VIP WORKSHOP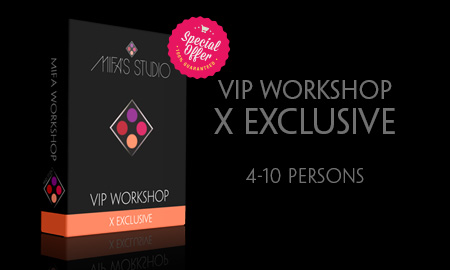 'X EXCLUSIVE' OFFICIAL MIFA VIP WORKSHOP
Classical setting for 4 to 10 persons. It will be just like in school. Only now you learn what you love! Book Online or More info
Step into the world of Mifa!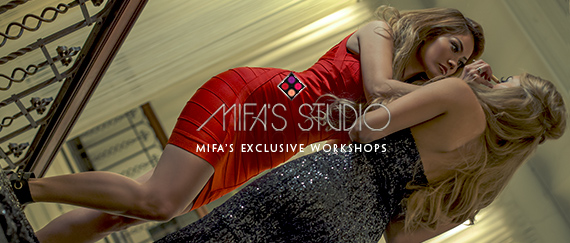 You want to learn more from the world of Mifa? Or do you want to update your skills and knowledge concerning beauty and makeup? This is your chance to get into gear and learn the tricks of the trade in a fun and yet educative environment!
We have different type of classes which are divided into 3 workshop packages. In all packages you will learn the same practices and theory. The difference lies in the amount of people per workshop. If you really want more personal and focused attention, we will advice The '1 Exclusive' Workshop. But if you want a more fun day with friends and learn something at the same time, we have the other packages for you. It's your choice, your party and your descision to select a workshop package that suits your needs! We hope to see you soon!
The Workshops
'1 EXCLUSIVE' VIP WORKSHOP


1 person only

Intense and focused workshop, one on one, with Mifa learning the tricks and tips with personal attention to every question you have in mind. Experience The Mifa '1 Exclusive' experience and learn the joy of beauty!

'23 EXCLUSIVE' VIP WORKSHOP


2 to 3 persons only

For a small group from 2 tot maximum 3 persons we have the '23 Exclusive workshop'. You and your friends will get an intimate and personal workshop from Mifa which will update you to the latest beauty trends and some industry secrets, given to you exclusively in this workshop.

'X EXCLUSIVE' VIP WORKSHOP


4 to 10 people maximum

X stands for 10. But also for a total fun workshop session with your friends in a college setting with a maximum of 10 persons. The 'X Exclusive' workshop will give you the latest tips & tricks from the beauty industry given to you by Mifa. You and your friends will get amazing results!

'PRESENTA' WORKSHOP


Public presentation on location

This special workshop presentation pack gives you the opportunity to let Mifa present on location on how she works and the different techniques she uses. This is especially useful for public events like fairs or parties. Call us for more info.